Written on May 28, 2017 at 3:29 pm, by Ellen Wood
It's humbling to watch my audience expand to include people struggling with stress and the blues in addition to those who want to grow younger. I really believe these mind/body/spirit habits can transform anyone's life.
The result of the techniques I share is happiness, but the other day I got to wondering, "What the heck is happiness, anyway?"
Wikipedia says: "Happiness is a mental or emotional state of wellbeing defined by positive or pleasant emotions ranging from contentment to intense joy."  Hmmm. Actually, I think we can sum it all up in two words: inside job. But how do we conjure up that inside state of positive or pleasant emotions? Many of us think we get there through the outside.
Scenario #1: If only she'd marry me, I'd be happy.
Then what happens?
She says yes, they get married and it's divorceville in 8 or 10 years. Or 5 or 6 years. Or 2 or 3.
Scenario #2: If only I had a better job, I'd be happy.
Then what happens?
He gets a better job and before long, the old boss is gone and he now reports to the boss from hell.
Scenario #3: If only I had a whole lot of money, I'd be happy.
Then what happens?
A big windfall of money swoops in, the house is paid off, and oops, the brand new car tangled with a telephone pole and guess who's in the hospital.
There goes happiness!
My point is that we can't have sustained happiness inside based on events and situations that happen outside.
No matter how smart we are, no matter how rich we are, no matter how delighted we are with our current circumstances, stuff happens! And our reaction doesn't just disturb our mental and emotional state, sometimes it gives us the blues. Worse yet, depression.
So how do we have happiness – even bubbling up joy – no matter what?
Well, for an inside job we need to change the inside, not the outside. In other words, let the outside stuff happen. It's going to anyway.
We change on the inside through inside practices: techniques that we practice every day until they become habits, like observing our thoughts, prayer, meditation, positive affirmations, feeling and expressing gratitude, forgiving everyone, loving ourselves just as we are.
Once these daily practices become habits, then all hell can break loose and inside we'll remain peaceful. Like in that 17th century haiku by a Japanese poet: "Barn's burnt down – now I can see the moon."
If you have any inside practices, please share them with our online community by commenting below. Thanks!!
Written on April 22, 2017 at 1:49 pm, by Ellen Wood
"Chew your food," we scolded our kids when they were growing up, "don't swallow it whole." Of course, their friends were standing around waiting for them to finish eating so they gobbled it down just a tiny bit slower.
Ever see somebody inhale their food? They don't even sit down to eat. They're always in a hurry and so busy, eating seems like a chore they need to do to quell the hunger pangs and they just gulp their food.
Uh… I have to confess I was one of them, especially when I lived in New York City and worked on Madison Avenue. They had those "convenient" places where you could stand up at a counter and eat while watching people walk by the window.
But now that I've been living in Taos, New Mexico, and researching how important eating mindfully with thorough chewing is to good digestion and how vital good digestion is to good health and growing younger, I've changed my way of eating.
There are 30 million people in the U.S. who suffer from digestive and colon problems and they could be greatly helped by paying attention not only to what they eat, but also how they eat.
The pace here is so much slower so I suspect your digestion is probably better than my friends' back east. However, we all need reminders so here are some tips for improving your digestion or keeping it at optimum health.
Pray before you eat. It reminds you to acknowledge your blessings and helps you pay attention to the process of eating. And gratitude is great for your health. Studies at HeartMath Institute, a global leader in research on the links among emotions, heart-brain communication and cognitive function, show that practicing the positive emotion of gratitude can actually improve your heart's rhythmic functioning. Even a short prayer like my kids used to say works: "Rub-dub-dub. Thanks for the grub. Yay, God!" And if you don't believe in God, then thank nature for providing you with the nourishment.
Chew, chew, chew your food until it is liquid. You might be eating healthy, organic foods but if you're not chewing it thoroughly, you might get only 5% or 10% of the nutrients. And if you don't absorb all the nutrients, you could be starving your cells. When Mahatma Ghandi said, "Chew your drink and drink your food," he meant that digestion begins in your mouth. Your saliva has an enzyme called amylase and when that enzyme mixes with food or beverage, the chemical process of digestion begins. If you don't chew your food thoroughly, the stomach acids have to work much harder to break down large chunks of food and this can cause stomach distress and mal-absorption of the nutrients.
Cut your food into small chunks and put your fork down between bites. This is something to practice in the beginning until thorough chewing becomes second nature.
Chew your juice or smoothie. Freshly-made juice or smoothie, whether you make it or buy it, is a powerful ingredient for good health. Swishing it in your mouth before swallowing, especially the first mouthful, maximizes the nutrients you absorb.
Be mindful when you eat. Practice being in the present moment. Just as chopping vegetables can be a meditation, so can eating if you totally focus on exactly what you're doing at the moment. If your mind wanders, just gently bring it back.
Rest a few minutes after eating. This is very important for good digestion.
Okay, so after reading this, you're going to chew your next meal thoroughly. But what happens two days from now when you forget about it? Right now I'm chewing cashews to liquid before swallowing but will my busyness take over tomorrow and will I forget to chew well? Aha. That's where those little sticky notes I'm always talking about come in. I'm going to print on a note: CHEW, CHEW, CHEW and place it on my dining table. That will be my reminder – it's better than the old fashioned tying a string on my finger, which I don't think anyone ever did anyway.
Here's to your good digestion and good health!
Written on March 13, 2017 at 1:32 pm, by Ellen Wood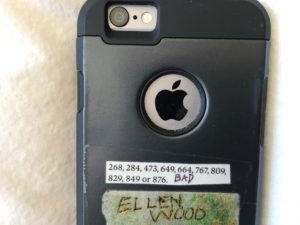 "Oh yeah… the grandparent scheme," the FTC agent said to me when I called to report that I almost fell for a scam for over $3,000. In cash!
I'm smarter than that but I didn't know then that the scammers have all kinds of tricks up their sleeves. They have a way to duplicate someone's voice and can find a lot of info on social media, like whether your grandchild calls you Grandma or Nanna or Grandmother or another endearing name.
I got the call from one of my grandsons – or so I thought. Although I have 15 grandchildren and speak with them only occasionally, it sure sounded like the one grandson he said he was.
He told me he was in trouble because of a car accident and would I speak with Officer Williams for the whole story. The man got on the phone and here's how the story went: my "grandson" had an accident and hit a rental car driven by some people from out of town who were furious. Although the rental car company said they would definitely reimburse them when it was all settled, the rental company wanted to be paid immediately. (The story is a little fuzzy now and my heart was beating so fast then, I may not have remembered all the details correctly.) They paid it and wanted cash from my grandson overnighted to their home in another state or they were going to press charges and my grandson could go to jail… something like that. The "officer" said he was doing my grandson a favor by asking them not to press charges. He gave me the address of where to send the money and gave me his personal cell phone number.
I said I couldn't get my hands on that kind of cash so he explained how I should use two different credit cards and ask for cash advances at any nearby bank.  The grandson got back on the phone to say he was sorry and thank you. One thing I could have done but was too stressed to think of at the time was to ask for the name of his dog.
After I hung up, I called my grandson's mother and left a message about the situation and asked her to call me. Then I called another one of my daughters and explained it all to her. She said absolutely do not send money – it's a scam and a friend's mother did send cash for a similar scheme because the voice had sounded just like her granddaughter. Then my other daughter called me back and said she had just spoken to her son who was at work and was amazed that "Grandma fell for that?!" I called the police who gave me the phone number for the FTC and I called and gave them all the details.
The other scam? Several months ago AARP Bulletin had printed area codes of scammers who call and get you to stay on the phone and rack up tons of dollars in fees. I cut out the numbers, marked it BAD and taped it to the back of my cell phone. Here are the area codes: 268, 284, 473, 649, 664, 767, 809, 829, 849 and 876.
When I got a call from a number in Jamaica, I turned my cell phone over, saw that it was one of the BAD area codes and hung up. (See photo.) Perhaps my experiences will alert you to be extra cautious. To file a complaint about a scam, go online to ftc.gov/complaint or call 877-382-4357.
I'd love if you'd comment below to share info with our online community on any scams you're aware of.  Thanks.
Written on February 7, 2017 at 4:30 pm, by Ellen Wood
As promised in my last blog, here are the daily practices that I have used to reverse early Alzheimer's. I continue to practice these action steps to keep the Alzheimer's gene I inherited in the "off" position. To make them into habits, start with just 2 of these practices 5 days a week for 3 weeks. Then add 2 more for another 3 weeks and continue adding 2 every 3 weeks until you are practicing all the ones you feel are right for you. Use sticky notes as reminders.
Cut way down on sugar. Some scientists are calling Alzheimer's: Diabetes Type 3. Aim to limit sugar to 15 to 20 grams a day. Read the labels of everything for the sugar content. Too much sugar screws up the brain and suppresses the immune system, among many other ghastly things. I don't count the sugar in fresh fruit.
Dry brush your skin. This not only removes dead skin cells; more importantly, it reduces stress (which also screws up the brain) and helps your lymphatic filtration system release toxins. Get a good body brush with natural bristles – one with a long handle because you'll probably be doing this yourself (a lover might get distracted.) Always brush towards your heart.
Drink half your body weight in ounces of water. And change your diet. Eat more veggies and non-farmed fish. Cut down on simple carbs, like white bread, white rice, white pasta, potatoes and desserts.
Observe your thoughts. When your mind chews on something over and over, it can actually change the structure of your brain. The best time to practice is when you're brushing your teeth since you don't need your conscious mind to brush your teeth – it's all muscle memory. Write on a sticky note: What am I thinking right now? and put it by your sink.
Release toxic emotions. Negative thoughts and emotions can get stuck in your physical cellular energy system and prevent you from experiencing joy. Learn to release these blocks to good mental health with this technique: feel the negative emotion as strongly as you can, then drop the story. When the story creeps back in, feel the emotion as strongly as you can, then drop the story. Continue until you can actually feel the release of the negative charge. Skip this one on days that you're feeling happy.
Write an affirmation seven times. Compose a short, positive statement like, "My mind is clear and sharp." Write it four times with your dominant hand, twice with your non-dominant hand and once more with your dominant hand. Before you go to sleep, review what you're grateful for.
Do the Tibetan Rites of Rejuvenation. These miraculous, ancient physical movements are highly effective for rejuvenating your brain and your body. Go to my website ellenwoodspeaks.com and click on the third video to see how to perform these Rites. Skip this one if it's too difficult.
Get your body moving. Practice quick-burst, high intensity exercises called interval training exercises to pump up your heart and brain. Or take a brisk walk. Or a slow walk if that's all you can manage.
Exercise your brain. Yes, you can train your brain at any age! Scientific studies on neuroplasticity show that the brain is capable of creating new neuronal pathways no matter how old you are. Memorize, memorize, memorize. Do arithmetic in your head. Learn a new language. Duolingo.com's bite-sized language lessons are fun, easy and 100% free.
Supplements. For more than 10 years I've been taking a number of over-the-counter supplements for my brain and I am convinced that they are a very important part of my program. Consult your healthcare practitioner about starting a supplement regimen for your brain.
Regular meditation transforms you from the inside out and lets you access your deepest inner reserves for healing and living joyfully. Studies show that meditation can reverse memory loss. Even five minutes a day of turning off your brain can have a profound effect.
Do something good for someone, including yourself. Even little things count. Make a quick phone call or send an email to cheer someone up. Or do something good for yourself (others will also benefit when you're happy). Whether it's painting or roller-skating or a bubble bath – make sure to fit joy and play into your life every day.                                                                                                                                                                                                                                I'd love if you'd comment below. Share with us what keeps you healthy and happy or anything you might want to say about Alzheimer's or other forms of dementia.
Written on January 7, 2017 at 1:22 pm, by Ellen Wood
In the past decade hundreds of clinical trials, at an aggregate cost of over one billion dollars, have been conducted to find the ONE cure for Alzheimer's Disease. But they all came up empty.
It turns out that there is a cure for early Alzheimer's – but it's not one particular drug or toodling with one specific gene. In fact, it's not ONE thing at all.
In a small joint study, scientists from UCLA Mary S. Easton Center for Alzheimer's Disease Research and the Buck Institute for Research on Aging found that memory loss may be reversed, and improvement sustained, using a lifestyle program that involves comprehensive changes in diet, brain stimulation, exercise, meditation, supplements and multiple additional steps that affect brain chemistry.
Sounds almost exactly like the program I developed for myself in 2004 when evidence of my mental decline became progressively worse. My symptoms were very much like the early part of Alzheimer's Disease that had claimed my mother ten years before: I was making copious notes because my short term memory was fragile; I didn't ask a question because I couldn't remember if I had just asked it; and my tongue kept tripping on words, if I could even find the word.
Some of the ten participants in UCLA/Buck Institute's study had symptoms similar to mine. For example, patient 3's memory was so bad that she used an iPad to record everything, then forgot her password. Her children noticed she commonly lost her train of thought in mid-sentence, and often asked them if they had carried out the tasks that she mistakenly thought she had asked them to do.
The study was conducted by Dr. Dale Bredesen, UCLA's Augustus Rose Professor of Neurology, director of the Easton Center and the paper's author. Although other chronic illnesses such as heart disease, cancer and HIV have been improved through the use of combination therapies, this is the first time a clinical trial has been conducted for Alzheimer's by combining a number of therapies.
Dr. Bredesen theorized that, rather than a single targeted agent, the solution might be a multiple-component system approach. "The existing Alzheimer's drugs affect a single target, but Alzheimer's Disease is more complex. Imagine having a roof with 36 holes in it, and your drug patched one hole very well," he said. "The drug may have worked, and a single hole may have been fixed, but you still have 35 other leaks, and so the underlying process may not be affected much." Dr. Bredesen added that although the findings are "very encouraging," the results are largely anecdotal and a more extensive, controlled clinical trial is needed.
Of course, integrative functional medical practitioners have been combining diet and other lifestyle and healing techniques for decades to successfully reverse mild impairment associated with Alzheimer's. They just did not have the necessary financing for clinical research studies.
In the UCLA/Buck Institute study, cognitive decline was reversed in nine of the ten participants. The patient who had been diagnosed with late stage Alzheimer's did not improve.
The global burden of dementia is astounding, and on the rise. Alzheimer's disease is now the third leading cause of death in the United States, after heart disease and cancer. There are currently 5.2 million Americans with AD, and 75 million young Americans with the most important genetic risk factor, APO-e4, the Alzheimer's gene I inherited.
Cognitive decline can be reversed. In next month's blog I'll share with you 12 daily practices that have definitely helped me to regain my cognition and grow younger. In the study, none of the patients was able to stick to the entire protocol. Do I do all 12 of my practices every day? No, but some of them have become habits that I just do without thinking. It's a New Year – consider beginning just three of these practices and notice the difference in your life.
Written on December 24, 2016 at 8:12 am, by Ellen Wood
It's Christmas.
A time to try squeezing a camel
through the eye of a needle.
Seeing who can give the greatest gift
Tiffany's, you say? Well, how about a
ticket to Trump's inaugural party?
Tee hee, that's not my family
we do a simple Secret Santa instead
Each person buys one $10 gift
or unloads something they already had.
It's a time for family to get together
this year even some from Australia!
There are so many of us
so diverse a crowd,
so close we love one another like crazy
and poke our nose into everybody's business.
And get on each other's nerves.
Then we laugh and hug
Or cry and grump.
My family has all kinds,
Jews and Catholics, Protestants,
New Age, Atheists, no Muslims yet but I keep hoping
Ancestors like Slovak, Hungarian, and Irish
French, English, Swiss, Italian
plus Japanese, Hispanic.
Black, Gay, Down Syndrome
One is homeless by choice
to pursue his creative passions.
One has nothing to do with the rest
but sneaks calls to his mother every fortnight
Two are foster daughters
Three had been abandoned
That's my family: Loving, sometimes functional
Often dysfunctional. Just like everybody else's.
May you have abundant joy this holiday season and throughout 2017.
Love and Blessings!
Ellen
Written on November 7, 2016 at 2:49 pm, by Ellen Wood
I want to share with you a big secret for growing younger and for making your whole life more joyful. It is: Love yourself exactly as you are. Oh, I can hear your thoughts: wait a minute.  I thought these were anti-aging tips for growing younger.  How can I love myself exactly as I am and want to grow younger?
Sounds like a contradiction, right? Actually, it's not. If you strongly dislike the way you look or feel right now, that causes stress which is the number one aging factor.
Besides, you'll just get more of the same of what you're focusing on: looks you don't like and aches and pains you don't want. That's because you attract what you focus on.
Think of how difficult it would be if you were working on a new project at your desk and a drill sergeant was hovering over your desk shouting at you – telling you how inept you are, screaming in your ear that you're worthless and have no talent and how could you possibly think you could handle that new project.
That's what it's like if you're trying to use action steps to grow younger while your mind is telling you that you look and feel old and ugly.
You need to feel good to create a younger you.
But here's the important part as to why it's not a contradiction to love yourself as you are and want to grow younger: GROWING YOUNGER IS AN ACT OF CREATION.
Ponder this: We are here on Earth to create. That's what Life is.  Life is creation.  We're creating all day long – moment to moment we're creating our lives.
Almost all of the time we're not even consciously aware that we're creating. For example, every day 300 billion cells in your body die and new ones are created without your conscious direction. And almost all of the time your thoughts and beliefs and memories are influencing what you're creating.
But every once in awhile, you're creating and it's inspired. Have you noticed how fired up you feel when you're being stimulated by true creativity? The ideas just flow, whether you're writing a novel or a sales proposal. You might be making something with your hands, and you feel the beauty happening – whether it's a piece of pottery, a painting or a gourmet meal.
And that feeling – that emotion – feels so good.  It sends ripples of joy through you.
We call it inspiration. It's not coming from your rational mind – it's a gift from Life with a capital L.
When you're creating something and it's inspired, you feel good and you're focusing on what it is you're creating. Not on the lump of clay in your hands – not on the paints on your pallet – not on the ingredients in that special stew you're concocting.
You're often not even thinking. You're just receiving – receiving inspiration.
Well, it's the same with growing younger. That too is an act of creation and you need to feel good and focus on the youthfulness you're creating and be open to receiving inspiration to take you to that next step.
Please comment below to share your experience/ideas for loving yourself exactly as you are. Thanks.
Love,
Ellen
Written on September 18, 2016 at 10:22 am, by Ellen Wood
When you read the headline, did you believe it? A very small number of us think it's true; the rest of us don't. Many people think that aging can never be reversed and certainly not with positive thinking. The whole idea would be laughable if it weren't for Professor Ellen Langer and her Counterclockwise Study conducted more than three decades ago.
The first woman to gain tenure in the Psychology Department at Harvard University, Dr. Langer has written extensively on the illusion of control, mindful aging, stress, decision making and health. But it is the ground-breaking experiment she organized and carried out in 1979 that rocked the world of psychology.
Dr. Langer designed her Counterclockwise Study to find out if turning back the clock psychologically could also turn it back physically. In other words, if we mentally become younger, will our bodies also become younger?
To explore this provocative question, Langer enrolled a group of men in their 70s and 80s to participate. The men were divided into two groups and each group was taken by bus to live for a week in a secluded location about two hours north of Boston.
The first group arrived and stepped into a virtual time-warp – back into the 1950s. They were instructed to live as though they were actually in that time – with Life and Saturday Evening Post magazines from that era, a black-and-white TV and old movies that were new then. They listened to radio news from the '50s and discussed "current" events such as the launch of the first U.S. satellite, Castro's victory ride into Havana, Nikita Khrushchev and the need for bomb shelters. Dr. Langer believed she could reconnect their minds with their younger and more vigorous selves by putting them in an environment connected with their own past lives.
The men also found themselves in a place that wasn't adapted to their infirmities – no ramps or hand rails and they weren't assisted with anything. Langer wanted them to be totally self-reliant during their stay. She insisted they carry their own suitcases, even if it meant scooting it along an inch at a time.
Dr. Langer almost abandoned the study as she observed, "When these people came to see if they could be in the study and they were walking down the hall to my office, they looked like they were on their last legs, so much so that I said to my students, 'Why are we doing this? It's too risky'."
However, during that week, Langer and her team observed many changes in the participants. They were standing more erect, walking faster and some even decided they didn't need their walking sticks.
After a week, they returned home and the second group of men arrived. These men, given a slightly different set of instructions, were told to simply spend the week remembering their experiences of the '50s and reminiscing.
During each week, on one evening the men sat by the radio, listening as Royal Orbit won the 1959 Preakness. For the second group it brought back a flood of memories; for the first group, it was a race being run for the first time.
None of the participants was told they were part of a study about aging. Before and after the experiment, both groups took a battery of cognitive and physical tests, and after just one week, the test results had changed significantly – for the better.
Langer points out in her book, Counterclockwise: Mindful Health and the Power of Possibility, published in 2009, "any positive results would be meaningful…old age is taken to be a one-way street to incapacitation."  However, she and her team were amazed by the changes evidenced in the tests. Both groups were stronger and more flexible. Height, weight, gait, posture, hearing, vision – even their performance on intelligence tests had improved. Their joints were more flexible, their shoulders wider, their fingers not only more agile, but longer and less gnarled by arthritis.
Perhaps the most remarkable finding was that the men in the first group – those who acted as if they were actually back in the '50s showed significantly more improvement. After spending a week pretending to be younger, they seemed to have bodies that actually were younger.
The physiological results provided evidence for a simple but invaluable fact: the aging process is indeed less fixed than most people think. In Langer's words, the study showed conclusively "that opening our minds to what's possible, instead of clinging to accepted notions about what's not, can lead to better health at any age."
And to satisfy that part of your mind that still may be muttering some doubts, I'll just share with you a part of what the American Psychological Association said in their citation to Dr. Langer when she received their Award for Distinguished Contributions to Psychology in the Public Interest. The award reads, in part, "…her pioneering work revealed the profound effects of increasing mindful behavior…and offers new hope to millions whose problems were previously seen as unalterable and inevitable. Ellen Langer has demonstrated repeatedly how our limits are of our own making."
Please comment below to share your experience/ideas for using your mind to reverse aging. Affirmations? Exercise? Watching your thoughts? Something else? Thanks.
Love,
Ellen
Written on August 27, 2016 at 9:36 am, by Ellen Wood
There they are, taking up a big chunk of our energy. And we don't even notice. Like a busy city whose noise is so familiar we don't hear it anymore. But that constant buzz is still going on. Cars. People. Construction. Sirens. Trains. And we wonder why we're stressed. If mental stress were physical stress it would be like carrying around a huge, heavy backpack. Filled with things we don't even enjoy. For years. And we carry it for so long we forget it's even there, but we wonder why our body is achy and tired. And just like that our thoughts are taking up our energy. Lots of it.
I'm not referring to the kind of thoughts used to solve a problem or contemplate beauty. I'm talking about the unintentional thoughts that seem to sweep us away, enticing us to worry about the future or regret the past. Sadly, those worrisome and regretful thoughts are what take up most of our mental space. And they don't feel good.
Not only do they block our happiness, they actually block the natural flow of energy in our physical body. Scientific studies show that when we concentrate on a thought backed by emotion our brain sends a rush of chemicals through the nervous system and to all our cells.
Troubling thoughts produce cortisol and other stress hormones that compromise and weaken our bodies. We get tired. Or even sick. And old. (Well, we all age, but we don't have to be old, if you know what I mean.)
When we focus on thoughts that feel good, our brain sends a rush of oxytocin  – that's the love hormone – throughout our body. Our cells, tissues, and fibers are soothed and strengthened. We are relaxed, alert and aware. All because of our thoughts.
The cornerstone of my entire program for reducing stress and growing younger is changing your thought patterns. No matter what else you do to live happy and grow younger, it cannot be sustained without a well-tended mind.
According to the National Science Foundation, the number of thoughts we have each day ranges between 12,000 and 50,000. Often these repetitive thoughts are negative – full of what we don't like about ourselves or someone else, or what we're afraid might happen in the future.
This negative mind chatter stops us from living up to our full potential as powerful, magnificent, joyful beings. And the dis-ease in our minds often becomes the disease in our bodies. You can change that! All you need is a willingness to form a new habit and a second or two to remind yourself to observe your thoughts.
One of the best times to practice is when you brush your teeth since you don't need your conscious mind to brush your teeth. It's all muscle memory – the action of brushing your teeth is automatic. So use that time to watch what's going on in your mind. Don't judge your thoughts but try not to get taking away with them either. In the beginning you just want to increase your awareness and simply notice that you are thinking.
I promise that if you make observing your thoughts a practice, it will raise your consciousness, the process of becoming aware of negative thoughts will become automatic and you'll feel healthier and more joyful.
Here's an effective way to get started.
Write on an index card or sticky note: What am I thinking right now?
Put it on or near your bathroom mirror as a reminder.
While you're brushing your teeth, notice your thoughts.
Don't judge them – just notice that you're thinking.
Once a week, change the position of the card.
You are what you think! My suggestion? Form a habit of becoming aware of what's going on in your mind.
If you have a good idea for reminding yourself to practice watching your thoughts, or any other good idea to share with our online community, please comment below. Thanks!
Love and Blessings,
Ellen
Written on July 16, 2016 at 8:53 am, by Ellen Wood
This startling news is from my friend, David Kekich, who founded Maximum Life Foundation. You too can sign up for his free newsletter at www.maxlife.org. And if you have some extra dollars, you might contribute to his foundation to help this wonderful work he's doing.
David writes:
Do you remember the team of molecular biologists that won the Nobel Prize for their discovery of a dormant gene with the amazing ability to potentially wipe out any disease? More than 16,200 independent studies confirm its disease-reversing power.
Scientists from prestigious institutions like Harvard and Stanford have conducted these studies on the "miracle gene."  Their conclusions are simply astonishing.
My associate, Michael Fossel, MD, PhD, estimates this revelation could help push human lifespan as far as 200. That's a HEALTHY lifespan too!
Mike adds: "We should be able to extend the human life span indefinitely." He goes on to say that this single gene can, "postpone or prevent the onset of diseases associated with aging."
Dr. Elizabeth Blackburn recently led a team of University of California and Stanford researchers who found the "miracle gene" could reverse Alzheimer's.
And Harvard graduate Dr. Dean Ornish concluded that, the miracle gene could actually not only prevent but even reverse chronic diseases, like heart disease, early-stage prostate cancer, Type 2 diabetes, etc.

The bottom line is, this discovery could expand our life expectancy and make so-called "incurable" chronic diseases a thing of the past.
But that's only the tip of the iceberg.
In fact, the "miracle gene", called hTERT won't just lengthen our health span, it will…
… to be continued.
Note from me: I'll send the next installment after I get it from David.
Joy and Blessings,
Ellen