Written on February 9, 2018 at 5:17 pm, by Ellen Wood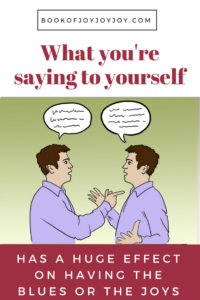 Written on February 9, 2018 at 5:13 pm, by Ellen Wood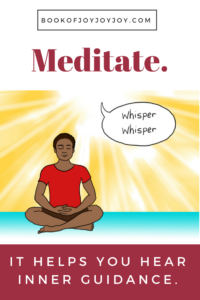 Written on December 23, 2017 at 6:13 pm, by Ellen Wood
Christmas is the least miserable day of the year. That's the conclusion of a blogger who compiled data on searches for the words: depression, anxiety, pain, stress, fatigue. His study showed that fewer people searched for those words on Christmas Day than any other day. True – many people feel jolly and happy on Christmas Day, but no doubt there are lots of other people who are too frenzied – or too blue – or too frenzied and too blue, to bother going on the computer to search for solutions on Christmas Day.
It seems to me there's a combination of physiological and social reasons for the winter blues. For one thing, there's less light this time of year. Days are short and animals are holing up – hunkering down for a long winter's nap. Trees, bushes and plants drop their leaves and withdraw into hibernation.
We, on the other hand, don't stop working at dusk; we just keep going like the energizer bunny. In fact, we increase our social activity this time of year, when the natural response is to be more muted in winter.
Summer is the time for outward expression; in winter the natural cycle is inward reflection but our culture runs counter to that cycle. We created a different response to winter. Instead of slowing down, meditating, contemplating and inwardly reflecting, we devised a mania of external activity, trying to recreate the expansive cycle of summer.
Marketers helped by inventing a day for us to stampede our way into large stores heaving with people, metal baskets crashing, "Jingle Bells" jangling in the background, fingers grabbing and stabbing, frenetic, frenzied, freaked out consumers vying to get the best bargains for gifts to give on Christmas Day. They call it Black Friday.
We plan a Christmas gathering of family and friends and we get up before dawn cracks and frantically cook and bake and set the table – juniper boughs for the middle cut from trees sleeping out back – and hope Uncle Albert won't tell his sexist jokes. And the wine flows and the kids giggle and the gabbing gets louder and by the time everyone leaves, we're exhausted. Sometime in between we remembered it's the birth of Jesus that we're celebrating and we bring Him out from behind the manger on the windowsill where the Three Wise Guys are waiting for their Epiphany on January 6.
Well, I have to tell you – even though I can imagine all that, that's not how my Christmas Day goes. Yep, kids and grandkids and one great-grandkid and a dear friend are coming to my house next Monday, 17 of them this year, but they do all the cooking and baking and finding enough chairs and picking up the wrappings and ribbons after our Secret Santa time. That wonderful tradition means we each buy only one gift and it's a hoot! Nobody really cares about the gift they get – it's such fun seeing who's going to get the most coveted one.
This year, as usual on Christmas morn, I'll sleep late, meditate and spend a little time by myself inwardly reflecting and counting my blessings. And oh, do I have blessings! I gently encourage you to do the same. Merry Christmas!
Written on December 17, 2017 at 5:43 pm, by Ellen Wood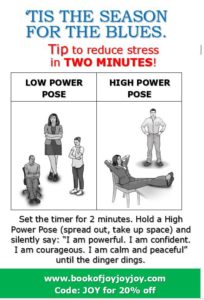 Written on December 17, 2017 at 5:41 pm, by Ellen Wood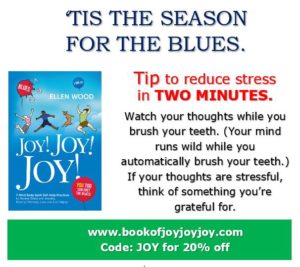 Written on December 17, 2017 at 5:38 pm, by Ellen Wood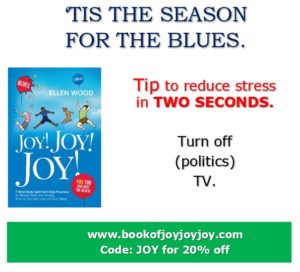 Written on December 16, 2017 at 2:55 pm, by Ellen Wood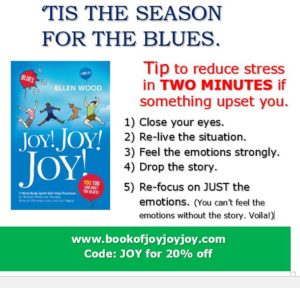 Written on December 11, 2017 at 4:30 pm, by Ellen Wood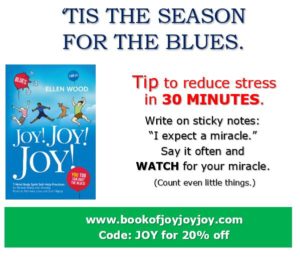 Written on December 10, 2017 at 4:37 pm, by Ellen Wood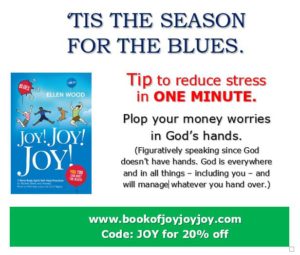 Written on December 9, 2017 at 10:34 pm, by Ellen Wood