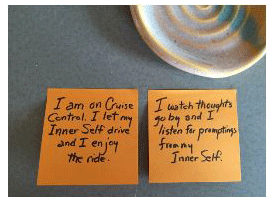 I was driving home from Albuquerque a couple months ago and realized how grateful I was to have cruise control on my car (no heated seats though – bummer!) Driving is so much easier when I don't have to control the gas pedal on long rides – I just let the car do that for me.
And then I got to wondering about the mystery of life and how unexpected difficulties happen. Unexpected fabulous things happen too, but we handle them just fine with a smile on our face and thrill in our heart. What if we could approach all the events of our life with that joy?
Imagine sailing along on Cruise Control, being present and doing what needs to be done – but not worrying about anything – trusting our inner self (you can substitute the word God or the Universe for inner self) to handle the whole shebang while we cruise along enjoying the fun and adventure of living.
Sounds like a good idea, but is it realistic? It might work for a day or maybe only a few hours, or minutes, but then something out of the blue hits us and we get mired in the muck and ditch the Cruise Control. Yep, we get to thinking that we can do a better job when we control the gas and brakes, and we end up jerking along through rough roads.
I've been doing that recently (maybe you read my last blog) even though I know that stress is the number one aging factor. So, to start turning over some of that control and stay consistently aware of my current state of being, I created some affirmations and put them on sticky notes around the house. When I see the affirmations I remember to move my focus to Cruise Control and I watch for signs that it's happening. A couple of the sticky notes say:
I am on Cruise Control. I let inner self drive and I enjoy the ride.
I watch thoughts go by and I listen for promptings from my inner self.
Then I designed a weekly checklist, with a column for each day, listing the affirmations I want to say and ponder every day. I also added a few more goals:
Meditate at least 15 minutes twice a day, 5 days a week.
Work on my new book for at least 6 hours a week.
Work on lining up speaking gigs at least 1 hour a week.
No TV before reading at least 30 minutes of inspirational material.
But how do I keep myself motivated to accomplish these goals? I decided I needed a reward if I did all of them for the week and a penalty if I didn't. I'm almost embarrassed to tell you my reward/penalty because it involves ice cream and political-junky TV so let's just say I'm very diligent about keeping up my checklist.
For the first two weeks I did have to endure the penalty because my twice-a-day meditations didn't happen five days those weeks. So, I decided to go easier on myself and changed it to meditating at least four days a week. Funny thing is, since I changed it to four days, I've been meditating twice a day seven days a week. And since "entertainment politics" no longer amuses me, I drastically curtailed TV.  But promptings are coming to me now so I'm writing them down. Amazing how it all works!
If you'd like to put yourself on Cruise Control, try this method and feel the freedom. Send me an email and I'll reply with a Word doc of my checklist so you don't have to make one up from scratch. You can put your own goals and affirmations about surrendering to your inner self on the checklist and then… just cruise away.